In the last article I posted we talked about Cord Cutting and the impact it can have on your monthly budget. This post will follow in those footsteps and hopefully help you look at your cell phone plan in a similar way. Finding the best mobile phone deals isn't terribly hard but it's different for everyone. Let's jump right into it.
Where are you now?
Your first step needs to be an evaluation, we can't solve a problem if we don't know what it is. Take a look at your monthly charges, your monthly use (voice, text & data) and any equipment charges. Many people choose to purchase their devices from their cell phone providers. This usually involves some kind of creative financing where you end up paying every single month for your device. If this is something you are doing now it's time to stop, in a hurry. More on this in a minute.
The next step is to understand the area you live and frequently travel within. Some cell phone networks have excellent coverage in most areas while others may be limited. For example, in our area services provided by T-Mobile, Sprint and AT&T don't offer great coverage while Verizon is excellent. Understanding which network(s) are best in your area will help you to narrow down options for finding good mobile phone deals that work for you.
Mobile phone deals, the carriers.
When it comes to trimming your cell phone bill MVNOs are your best friend. MVNO stands for Mobile Virtual Network Operator. Essentially these are companies that don't own the network infrastructure but rather sell services using another company's network. In this category of mobile service providers you will find many different options and price points available. You will want to be sure that you select an MVNO which is using the best network for your area.
The first time we ventured away from the large mobile providers we made some mistakes. As I mentioned above Verizon has the best network in our area and we didn't pay close enough attention to that fact. At the time we were using AT&T and the service wasn't great but acceptable, the price was not. Our monthly bill was consistently over $160 per month for 4 lines of service with unlimited talk & text and 5gb of shared data. Simply outrageous by today's standards.
After looking over our bill and what we could potentially save we made the switch to Ting. While Ting truly was a great company and provided us with wonderful customer service they were using the T-Mobile network. In our area T-Mobile just isn't very good, the coverage is spotty and the data speeds are very slow. That said, our overall experience wasn't very good. The savings on the other hand was! When we were using Ting our monthly bill averaged right around $65. But, it just didn't work well. If you are in an area where T-Mobile has great coverage Ting could be an excellent option to explore.
Back on the hunt, our next attempt was with Cricket Wireless. This one was a mistake from start to finish, I should have known better. We had become so frustrated with the poor reception using the T-Mobile network we decided to try moving back to an AT&T based provider. Cricket had a reasonable offer at $99 for our 4 lines, more expensive yes but we needed a service that worked! After making the switch we noticed a few things right away, massive amounts of robocalls started hitting all of our phone lines. Obviously Cricket is looking to make a few bucks by sharing customer data with third parties. This combined with the mediocre service of the AT&T network along with the $99 price tag got me back in hunt for a better solution.
Our last big switch was to the provider we are still using now, Xfinity. I was hunting for an MVNO that was using the Verizon network so immediately our options were reduced. After looking over all the possibilities the best fit for us was Xfinity. They provide free unlimited talk and text for no charge at all if you are already an Xfinity subscriber for internet or television services. That just leaves your data charges and the standard taxes to deal with. Looking at our typical data use in a month we found that we always use over 2gb but rarely over 3gb. Xfinity gives you the option to purchase a block of shared data at a discount and just pay overages as needed, both at a reasonable price. Given those options we choose to pay for 3gb of data each month for a total of $30. Since we made the move our highest bill has been $48 with most months coming in at just $36. That's for 4 lines on the Verizon network!
As you can see, hunting around for the right mobile phone deals can save you a ton of cash. With almost zero compromises either. Our quality of service is higher and our costs are typically under 25% of where we started out. It just takes a little work. The icing on the cake for all of this effort? No contracts, period. You will be free to change your cell phone provider at any time!
Below is a table with most of the popular MVNOs listed along with what network they are using. This is by no means a complete list of providers but some of the more notable ones. I would highly recommend checking out the no contract subreddit for up to date discussion and recommendations as well.
| MVNO | Network(s) |
| --- | --- |
| Ting | T-Mobile, Verizon |
| Cricket Wireless | AT&T |
| Xfinity Mobile | Verizon |
| Twigby | Sprint |
| Tracfone | AT&T, T-Mobile, Verizon |
| Republic Wireless | T-Mobile |
| Total Wireless | Verizon |
| Net10 Wireless | AT&T, T-Mobile, Verizon |
Mobile phone deals, the hardware problem…
At the beginning of this article I said we would talk about financing devices directly from your mobile phone provider. This is something that really drives me up the wall. The first thing you need to remember is that these companies exist to make money. It might sound like an amazing offer to get that brand new iPhone for $1 per month, it's designed to. One thing you can always count on is a business doing what's in their best interest. They aren't working hard to make you money. You can be 100% sure that if they are giving you a $900 phone for just $1 a month they are making up the difference somewhere. Most of these offers don't include high interest financing but rather conditions that keep you locked into overpriced service plans for long periods of time. If you're in this cycle now it's time to break free.
The mobile phone industry in general is annoying. Manufacturers are churning out new models on an annual basis to drive sales. While each new generation of devices are more powerful and more capable, the average person simply doesn't need the cutting edge technology for day to day life. Our culture around these pocket sized computers pushes people to "keep up with the Jones's" for social approval. That's just a perfect storm for poor financial choices.
Mobile phone deals, the hardware solution!
So what's the solution to this device debacle? That's easy, buy used phones. This might put some people off but we have been doing it for around 10 years and it's simply fantastic. Early on I recognized that the best deals are typically found on 1-2 year old flagship devices. These are top of the line phones that are still plenty capable. Typically these are well cared for having been kept in cases and behind screen protectors since new. iPhone users will find it very easy to see how long you can expect devices to be supported by Apple. It's typically around 5-6 years from the date of release.
When we made our last switch and purchased new devices we went with iPhone 7 models. We purchased them online from Gazelle at just under $200 each. These phones will get updates to iOS 14 this year and iOS 15 the following year before support ends. This means we will be able to enjoy these devices through 2022 before replacements will be required. This is a solid 3 years of quality use for only $200. When it's time for an upgrade we will sell our hardware on the used market to recover some expense. Being comfortable with the used and refurbished market will really let you save even more money.
Counting your new found riches.
This is always the best part of any money-saving project! We love to take a look at how saving money today will impact our life in retirement. When we started this entire exercise our monthly mobile phone bill was over $160. Slashing this bill to just $36 monthly and buying new devices every few years on the used market saves us around $100 every single month. If we head over to our basic investment calculator and plug in the values for 20 years with a 7% return we can see our real savings.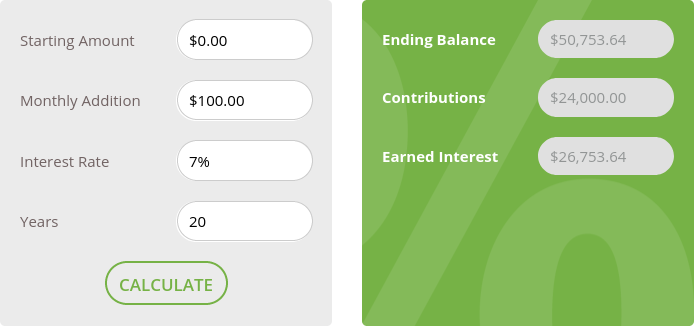 As you can see, these simple changes will build over $50,000 of wealth for retirement over 20 years. In retirement this little nest egg earning just 3% should provide us with about $125 per month of income. More than enough to pay our mobile phone bill and then some for the rest of our lives. This is what Foolish to Frugal is all about! Take control of every aspect of your spending and watch the rewards add up.
Scott